Live in Greater Manchester? Have 5 minutes to spare? We need your voice!
We're collecting recordings of people from all over Greater Manchester to find out more about how people speak in the region, and to explore people's attitudes towards different accents. Later in 2021 we will be collecting even more voices when we travel around the ten boroughs of Greater Manchester in our Accent Van, but for now, all you need to do to take part is…
Record yourself describing the image below.
Provide some basic biographical information and complete the consent form.
Email us your recording.
Please read this information carefully to understand how we will use your recording, then see below to get started.
1. Recording Instructions
The dotted line on the image below shows a route from 'start' to 'finish', which goes around a series of items. Imagine that you are describing this route to someone who has a copy of the image, but with no dotted line. For example, you might start by saying 'go down from the start flag and loop under the boat on a lake, and then go above the long alley…'. Provide as much detail as you think they would need to successfully replicate the dotted line. Keep an eye out for some of the unusual things you'll find along the route!
You can use anything you like to record yourself, such as your phone, computer, or any other kind of digital audio recorder. An easy way to do this on a laptop is to go to a website such as online-voice-recorder.com, or on a phone you could use the Voice Recorder or Voice Memos apps (for Android and iPhone, respectively). But remember that you will need to see the image as you make your recording, so if you are using a phone you might want to print the image first if you can. However you make the recording, please make sure you are somewhere quiet, and that there is as little background noise as possible.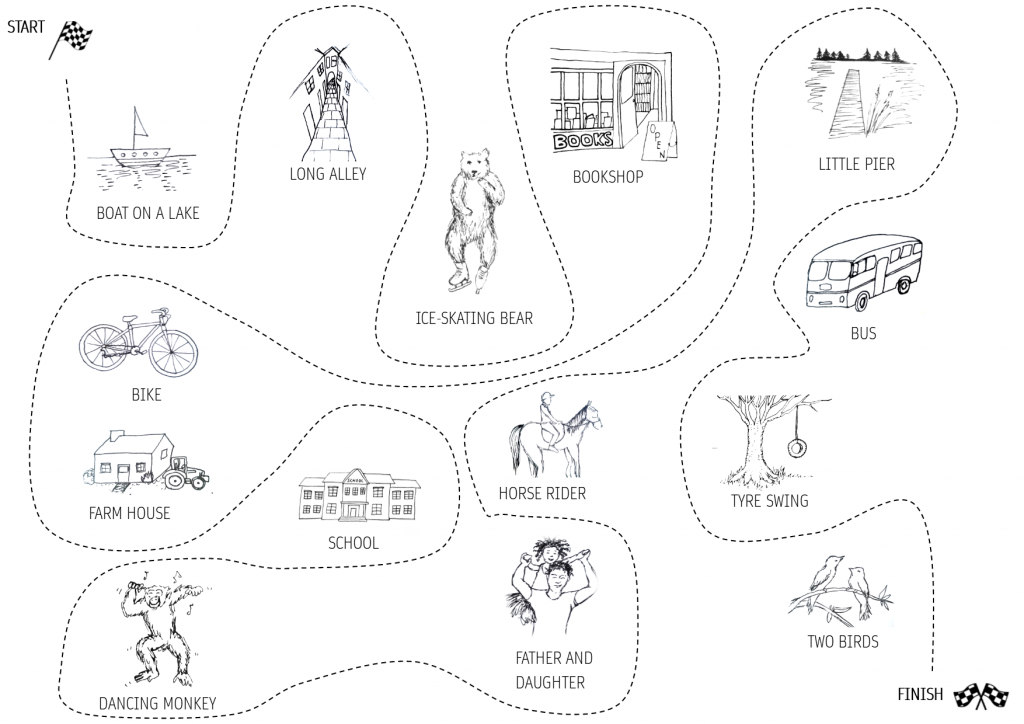 Thank you to Hazel Dann for the illustrations.
2. Information and consent
3. Email your recording
You should get a notification email from us to say that we have received your information and consent. Please check your junk folder, as the email can sometimes end up there. Please reply to this email with your recording as an attachment. If you have any problems, or if you don't get our notification email, please contact us at Manchester.Voices@mmu.ac.uk.
The Manchester Voices project is funded by the Arts and Humanities Research Council (Reference: AH/S006125/1). This aspect of the project has been granted full ethical approval from Manchester Metropolitan University (EthOS Reference number: 24143).